SWITCH TYPE
Next, you need to figure out which type of switch appeals to you the most.
OPTICAL
If you seek speed and performance, look no further than our fastest, most advanced switches. Actuating via light beams, each keystroke has zero debounce delay for instantaneous response times.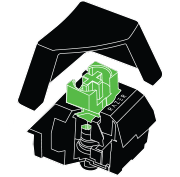 MECHANICAL
If precision is a must, but you're selective about how your keystrokes should feel and sound, then explore our trio of classic mechanical designs—with varying degrees of tactile feedback and sound profiles.
MECHA-MEMBRANE
Get the best of both words as you enjoy the precision and tactile feedback of mechanical switches, combined with the cushioned touch of rubber membrane keys.